€50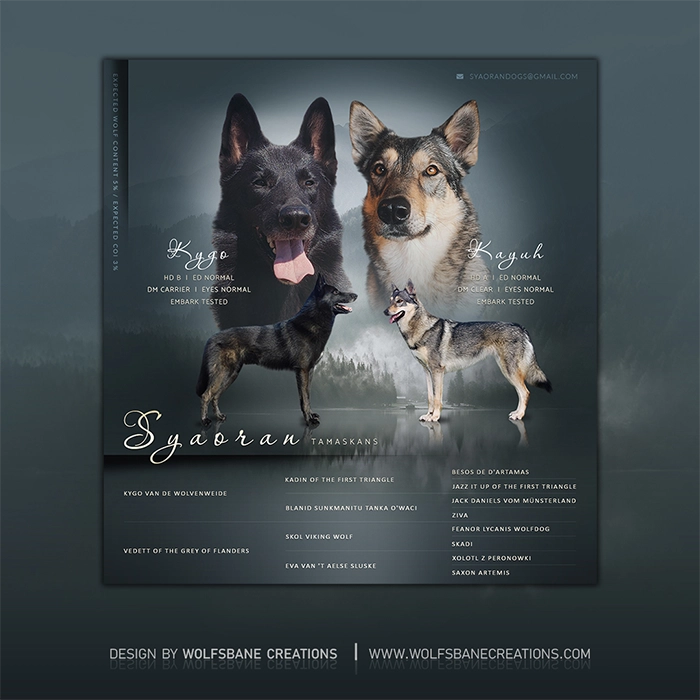 With a custom made high quality breeding announcement you can present your future breeding on social media and your website!
The breeding announcement will be fully customized according to your wishes. These may feature 1-2 photos each of the parents, their names, health, show and/or work results, your breeder name or logo, when the breeding is expected, and your contact information. It is also possible to include a 2-3 generations text pedigree for a surcharge (+ €5).
Photos
To create the breeding announcement we will need several photos of the parents. Professional / Digital Camera photos are preferred as the final design quality will be impacted by the quality of your photos. Please see the following page for the photo guidelines.
Usage & Delivery
Breeding announcements are suitable for web only, such as social media and websites. You will receive the files in .jpg format which have been optimized for Facebook and Instagram use. All graphics have a 2-5 day turnaround time. Delivery is done digitally to your email. Please keep in mind that the turnaround time is counted from the day that we have received all necessary details and photos.
Revisions
Two rounds of revisions are included in the price. Which means that if you want something changed after we finished your design, such as text, colors, a different photo etc. you can let us know and we will change it free of charge.
Note: our services are exempt from VAT.